A new program is being offered following the CoFiA Monday lunch programs at Grace Evangelical Lutheran Church in Palisades Park–an introductory OSHA training.  OSHA trainers Stuart Sydenstricker and Diana Mejia invite workers who come for the hot lunch to participate in an informal OSHA session after lunch.  Several workers have testified about how they have been injured on the job, and how important it is to know how to work safely and what to do if an employer does not provide adequate safety information or equipment.
Workers who complete the full five-week program will receive a certificate.  People who are unable to attend regularly will benefit from the information provided and may be able to sign up for a full course at another time.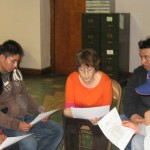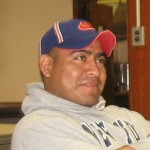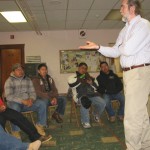 Pictures, from left to right:  Stewart addresses the group. A worker enjoying the session. CoFiA member Effie Giraldo assisting.