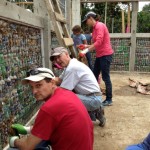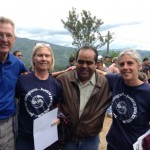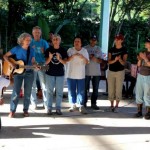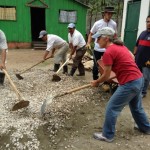 In the summer of 2013, five members and friends of CoFiA, including Chairs Carolyn Sobering and Suzanne Broffman, traveled to Guatemala to help build "bottle schools." Suzanne organized the trip through an organization called "Hug it Forward." The program helps Guatemalan communities build classrooms out of "eco-bricks," plastic bottles stuffed with inorganic trash which are then covered with cement to make walls. Hug it Forward has completed 28 schools at an average cost of $6,500 per classroom.
Most of the work is done by the men, women, and children of the community under the direction of local hired workers. The people from the U.S. add short-term energy and assistance.
In addition to work on the schools the Hug it Forward volunteers learned about the local history and culture, including visiting Mayan ruins, visiting in local homes, and hearing personal stories about the 36-year civil war. One young man spoke of his time working in the U.S. as a painter in order to send money back to his family.
Debra Given, pastor of the Presbyterian Church in Leonia and a member of CoFiA, also participated in the trip. This post is adapted from her write-up for the Church newsletter. Photos thanks to Suzanne.