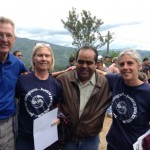 Photo: CoFiA co-chairs Carolyn Sobering (second from left) and Suzanne Broffman (on the right) with CoFiA member Pete Shanno (far left) and Mayor Otto Vielman, on their recent trip to Guatemala.
The monthly general meeting of CoFiA will be held this Thursday, October 3, at 7:30 p.m. at the Presbyterian Church in Leonia. The group will review ongoing work on Wage Theft, ESL, the Lunch Program and the Workers Link program, and discuss new projects including various marches and rallies for Immigration Policy Reform.
All are welcome at these busy but informal meetings. For more information contact Carolyn (cwsobering@verizon.net) or Suzanne (stbroffman@hotmail.com). Come help us make a difference!