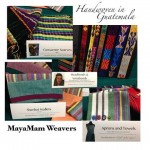 At the CoFiA Fundraiser on November 24, 2013, participants will have the opportunity to purchase beautiful handwoven goods made by members of the MayaMam Weavers of Guatemala. A program of Grupo Cajolá, MayaMam Weavers began when several people in the town of Cajolá, in the Department of Quetzaltenango, Guatemala, got together to talk about common problems. They recognized that lack of income was their major need. This group realized that they could use weaving and sewing products as a way to earn a living.
The MayaMam Weavers work within the "Maya Cosmovision"—"We are part of the earth, there is only one unity. That makes us be, live, share, communicate and commune with her, as living beings, creators, and re-creators of life….We believe that no species is superior to another. We are complementary elements, although different from each other; we are all linked in a network, like a spider's web interwoven with relationships and interactions that are independent and complementary."
At a display table of MayaMam weavers' goods you will find beautiful aprons, table linens, gossamer scarves (very popular in the U.S. this season), and lovely woven bracelets—all the rage with the younger generation—and more. Come stock up on gifts for every occasion and know you are contributing to the economic development of a whole town.
For more information go to mayamamweavers@gmail, or www.grupocajolá.org.
Spread the word! La Fiesta will be held on Sunday, November 24, 2013, from 4 – 8 p.m, at the Legion Hall, 399 Broad Avenue, Leonia, NJ 07605. Live band, marimba, recorded music for dancing, food and drink–and lots of good conversation!