All around the United States, immigrants and advocates gathered to voice their demands for an immediate reform of the broken immigration system.
CoFiA secretary and MIGUA member Guillermo Calan participated in a rally in Long Island.
In Washington, D.C., in addition to large numbers of other protestors who participated in demonstrations, several members of the House of Representatives and leaders of faith communities supported the effort by putting themselves in a position to be arrested for demonstrating on public property.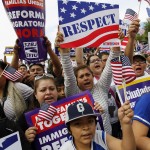 Representative John Lewis, a long-time Congressman and Civil Rights Advocate, is shown being arrested for expressing his beliefs.