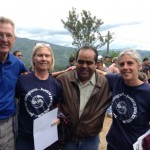 This year's annual pot-luck dinner and annual meeting will be held at the Presbyterian Church in Leonia on Friday, December 6, 2013, at 6:00 p.m. People who plan to participate are asked to let Co-Chair Carolyn Sobering know what they will bring to share. (cwsobering@verizon.net.)
Sobering, Co-Chair Suzanne Broffman, and CoFiA volunteer Pete Shanno will report on their trip to Guatemala last summer. They were part of a work tour led by the group, "Hug It Forward," that worked with local people in building a school in one town. A highlight of the trip was to be able to meet the family of CoFiA/GUD member Guillermo Calan.
They will present a brief video and answer questions about the experience.