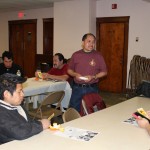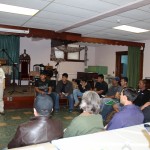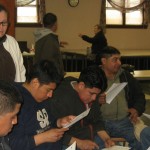 CoFiA staff member Elias Garcia recruited a large group of eager workers for this spring's OSHA training. This training is very important because on successful completion workers are awarded an Occupational Safety and Health Administration certificate, which can be shared with potential employers. The course instructs students in what their rights are, how to stay safe on the job, what they can do if an employer asks them to do dangerous work without safety gear, and more. They are also provided specific information on on-the-job topics such as scaffolding, day wall installation, electrical issues, and much more.
With Elias' help CoFiA has been able to provide this training for several years and a growing number of workers are now working more safely and are able to demand more consideration from employers. This self-confidence also helps them stand up to employers who refuse to pay for work completed. A good combination with the work of the Wage Theft Committee! There is no charge for the training program.
One of the trainers for this series was Diana Mejia.