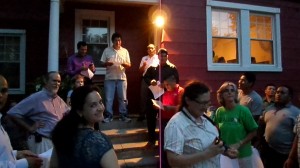 A large class of students who successfully completed an OSHA training session received their certificates at a party sponsored by CoFiA on July 7, 2014. The class of twenty-seven included three women. Some people came from as far away as Queens, New York.
These OSHA programs are a great help to workers who often face dangerous situations at the job site. The enthusiastic students are now requesting further training, especially in electrical work, and scaffolding. Many people have been injured when required by employers to work from unsafe scaffolding, or on electrical projects that are not properly secured. The OSHA certificates can be shown to an employer when a worker is objecting to being asked to do a dangerous job.
Our thanks to Elias Garcia, who organized the program and made sure the graduates knew the details of where and when the graduation was to be held; Diana Mejia, trainer; and Carmita and Ernesto Fong, who graciously made their beautiful home and yard available. CoFiA members agreed it was our best graduation party ever!