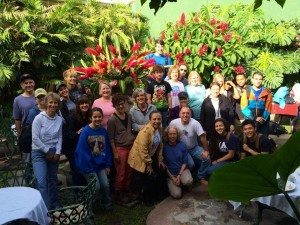 The Presbyterian Church in Leonia organized a mission trip to Guatemala. Twenty-nine people, including 5 members of CoFiA, went on this trip to help build a middle school out of recycled bottles with an organization called Hug it Forward.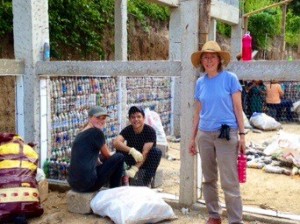 The bottles are stuffed tightly with inorganic trash to create what
they call "eco bricks." The schools Hug it Forward builds are all in San
Martin, Jilotepeque, Chimaltenango, Guatemala, where most of the day laborers
CoFiA works with come from. Last year our group worked on schools in the
villages of Xesuj and Chisunuc while this year we worked in the village of
Chidonjuan. We were welcomed into this remote village in the Guatemalan
mountains untouched by tourism, and were able to interact with the children and adults there as they worked and played with us.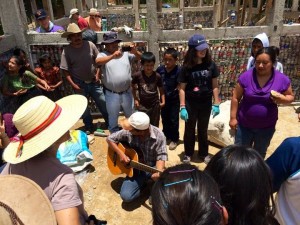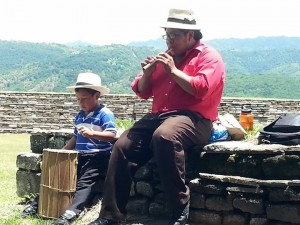 Many of the people in Chidonjuan survive as subsistence farmers, which means
they are barely able to grow enough food to feed their family each day, with
nothing left over. We heard from a survivor of the Guatemalan Civil War who
told us that the current generation of adults in the countryside has very little education, because for over 30 years their families were caught in a long civil war. Many were killed during this war, and the rest hid in the mountains to survive. Now that the fighting has stopped, they are determined to provide something better for their children.
We visited what they called a "humble home." It consisted of an open-air
kitchen with a fire for cooking and a faucet for running water, plus a small
room with a light bulb on the ceiling, and a bedroom which slept two adults and nine children in two small beds. The walls were made of corn stalks, which had to be replaced every few years. The tinroof was rusty and had tiny holes in it. In the bedroom a plastic sheet hung over the bed,to catch any rat urine that might drip through the roof as they slept at night.
We were told that half the men in that village had worked in the United States
long enough to send back money to build a better home. Some houses with sturdy roofs, concrete floors are finally being built. We heard a talk given by Guatemalan man who had spent 5 years working in the U.S. who told us that the best form of foreign aid is immigrants who work in thie U.S. and send money back home. Whether they are documented or not, the money is well-earned, and is not wasted on corrupt politicians. It goes directly to people who put it to good use.
We also spent one day of our trip touring some Mayan ruins. The Mayans had a
sophisticated civilization dating back thousands of years before Christ. But it was almost entirely wiped out in the 1500s by Spanish conquistadors, who took over the area, killing most of the Mayan people and enslaving the rest. Our guide told us that the conquerors banned the Mayan language and imposed their own culture on the people. But the Spanish did not educate the Mayan women or pay much attention to them, so the women were able to keep the language and some of the Mayan customs alive at home, secretly passing them on to their children and their children's children.
Today there is an interest in reviving Mayan culture and scholars are piecing together information from found documents and the folk traditions that have survived.
This trip was a transforming experience and we are thankful to have been able to spend the time with our Guatemalan sisters and brothers.
-Debra Given and Suzanne Broffman