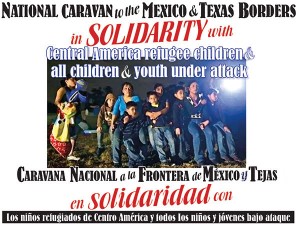 A coalition for worker and immigrant rights including labor unions, faith-based community and many progressive and social justice activists are organizing a caravan to South Texas in support of migrant refugees. The caravan will take badly needed material to the children on the border as well as to organizations that are supporting immigrants. They will also carry out a National Educational Campaign.
The caravan organizers have a list of demands including refugee status for all Central American children, an end to the deportation of all immigrants, legalization for the over 12 million undocumented immigrants, and an end to the killing and abuse of children and youth from Ferguson to Gaza to the Mexico and Texas borders.
They are asking interested individuals and organizations to assist with financial contributions (payable to IFCO/Solidarity Caravan 2014, 147 W. 24th St., 2nd floor, New York, NY 10011); contributing material aid for the children; or hosting the Caravan in particular cities. The Caravan leaves NYC around October 2.
For more information, call 917-328-6570.