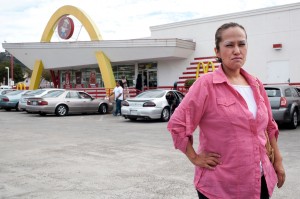 photo by Peter de Silva for the New York Times. "Guadalupe Salazar, a McDonald's cashier who says her paychecks were missing overtime wages."
An article by Steven Greenhouse, "More Workers are claiming 'wage theft' (New York Times, August 31, 2014, Business Day Section), states there is a flood of recent cases in California and across the nation that accuse employers of violating minimum wage and overftime laws, erasing work hours, and wrongfully taking employees' tips.
Some business groups, however, claim that the increase is due to union action and government efforts to score points with the unions–although they don't deny the incidents occur.
Among the corporations cited in the article are Walmart, Fed Ex., janitorial companies, and many more.
The Director of the Federal Labor Department's Wage and Hour division, David Weil, said his agency had uncovered nearly $ 1 BILLION in illegally unpaid wages since 2010.
Guadalupe Salazar (see photo) joined a suit against McDonald's because she was repeatedly cheated of her overtime pay for work that she was forced to do, even though she would have preferred to spend the time with her family.
A familiar dodge of corporations is using sub-contractors rather than hiring workers directly, and trying to hold the sub-contractors responsible for non-payment. Nonetheless, suits have been filed and won against the corporations themselves even when they try this tactic. Another tactic employers use is claiming the employees are "independent contractors" although they are in every sense working for the corporation.
CoFiA's Wage Theft Committee and the workers we assist struggle with many such cases. Because the cases are often (but not always) against smaller corporations, or because the workers are undocumented, it is usually not possible to file class action suits. So we must resort to "creative tactics" to track down the errant employer and persuade him or her to make good on their obligation.
(Thanks to CoFiA Board Member Rev. Janet Blair for calling our attention to this article.)