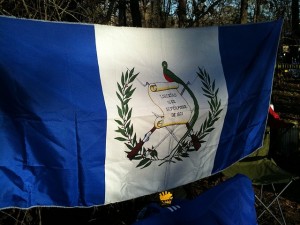 Joselino Chocoj is a member of CoFiA and a founding member of "Por Mi Linda Guatemala"(For My Beautiful Guatemala). He is an actor and artist, best known to CoFiA as the leader of Grupo Folklorico Tikal, a group of local men who perform a traditional dance. In addition to his work as an organizer in the Fairview area, Joselino is now taking up a new endeavor as a composer and lyricist. At La Fiesta he sang "You Are Hidden Farther Than the Stars," with music by Juan Pablo Morales Estrada, and lyrics by Joselino, sung with guitar accompaniment by The Brothers Quinac; and "12 Million," a song about the immigrant experience for which he wrote both the words and the music. The Brothers also presented their own composition "My Mother is the Better Immigrant," calling on immigrants who are lonely and homeless to pray to the Virgin Mary who is "a better immigrant"and is waiting for them in heaven.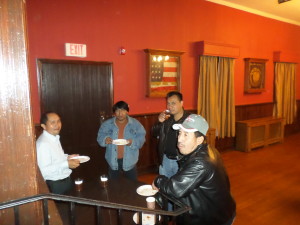 12 Million
Words and Music by Josélino Chocoj
In someone else's hands
We cross a river
That they call "the border."
Now on the other side
We immediately change into
Impersonal objects.
They tempt and confuse us with
Diamonds,
Also with gold
And with the ultimate option
Money.
Where the ideal would be
Is that they treat us as
Humans,
According to Human rights..
CHORUS
Oh my God, What sadness.
Time passes, Seconds and minutes,
The hours, Also days, Months and years.
We are in the 21st Century
And some who govern us
Don't change.
Entering and leaving
They think of material things
And not about the poor.
They think of vanity
And not about those who die in
Massacres and deserts.
We arrive at the final line.
We cross without permission
And we don't deserve condemnation for this.
FINAL CHORUS
We are part of 12 million.
The U.S. is a beautiful country.
I call it Paradise.
People, this is a country of immigrants.
Why call us undocumented
Because we have no papers
If we are Americans?
Skin color doesn't matter
Nor does class.
We are people, we are one
We will fight to the end.
We were born in America
And in America we can't remain.
We are parents, We are children,
Also siblings, And ultimately,
We are family.
People, don't separate the families.
The family is the basis of being human.
Understand if you separate what God gave us
He will be watching you.
(translated from the Spanish by Betty DeMarco)