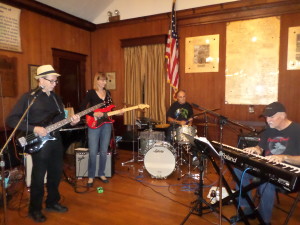 The Still Standing Band contributed their talent again this year, playing a lively mix of blues, Sixties rock, and rock & roll. The Still Standing Band is Howie Bowe on guitar, bass, and vocals; Steve Wortman on keyboards, harmonica, and vocals; and Leonia natives Bob Daria on percussion and Peggy Ehrhart, guitar and bass. Many thanks to all!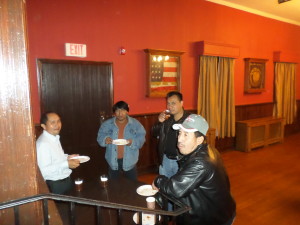 We were honored to have with us a new group, consisting of singer-songwriter Joselino Chocoj and guitarrists/singers the Brothers Grimac. Joselino sang "Te Ocultas mas alla de las estrellas,"for which he wrote the lyrics and our friend Juan Pablo Morales Estrada the music. He also sang his own composition, "12 Milliones,"in which he describes the experience of being unwanted migrants in a strange land. Don Elias Garcia helped the group with preparation, and also provided "musica grabada" (recorded), including popular marimba selections.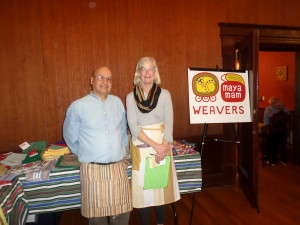 Grupo Cajola's Maya Mam Weavers were once again in attendance at the fiesta, with lovely Guatemalan hand-made fabrics for sale. The group contributed a portion of its earnings to CoFiA. We were pleased to be able to highlight the wonderful work of this women's collective. For more information go to www.mayamamweavers.com. "For the Maya people, weaving has been, for thousands of years, a way to express their identity and love of beauty. It has been a way to relay their vision of the universe, earth, and humanity — that everything is interconnected, all are different threads of the same fabric and that unity exists through diversity."
Contributions to support the work of the Community of Friends in Action are always welcome. Make checks payable to CoFiA, and mail to us at P.O. Box 313, Leonia, NJ 07605-0313 (new address). Gifts are tax deductible.