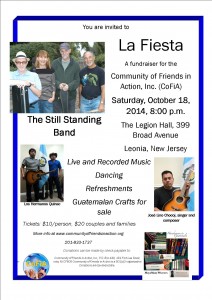 What are you doing Saturday night, October 18? Come join us at the Legion Hall in Leonia for a gala evening of music, dancing, refreshments, Guatemalan crafts and wonderful conversation.
From 8 – 11 p.m., tickets $10/person, $20/ family. Refreshments are free. Bring your dancing shoes!
For more information call 201-598-2253.
If you cannot join us for the party but want to support the work of CoFiA, just write a check payable to the Community of Friends in Action, Inc., and mail to P.O. Box 313, Leonia, NJ 07605-0313. Donations are tax deductible. And thanks!