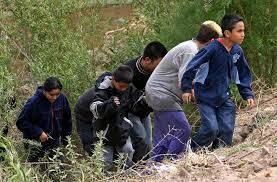 In 2014, 66,127 unaccompanied children and 66,142 families–generally mothers with young children–have arrived at the U.S. southern border. The number of children is up 88 percent since last year and 241 percent since 2009. The number of families is up 412 percent since last year.
However, the numbers are beginning to decline.
These children and families are fleeing to wherever they think they can find safety. Asylum requests from Honduras, El Salvador, and Guatemala are up 712 percent since 2009 in the neighboring countries. Honduras is known as the murder capital of the world (1900 times more murders per 100,000 people than the U.S.), while the murder rates in Guatemala and El Salvador are 800 times that of the U.S.
More than half of these child arrivals may be eligible for some form of protection. However, their chances of being awarded protection–asylum, Special Immigrant Juvenile visas, or other forms of legal relief–are slim if they have no lawyers. Undocumented people are not eligible for free legal services. Even very young children are taken before an immigration judge by themselves, with no English and no comprehension of what is happening.
These statistics relate directly to U.S. foreign policy. Individuals and organizations that want to understand how this works can look at the research on the impact of the trade policies NAFTA and CAFTA on Mexico and Central America.
CoFiA is seeing a few of these children and families arriving in our area–traumatized, unprepared for the realities of life in the U.S. including school, and with nowhere to turn for help. Our very part-time staff helps as they can, but the need for each child and family is great.
Organizations that are concerned about these serious violations of human rights are trying to secure lawyers for these children and families. If you want to help, contact us at info@communityoffriendsinaction.org or call 201-598-2253.