By CoFiA Wage Theft Committee member Norm Smith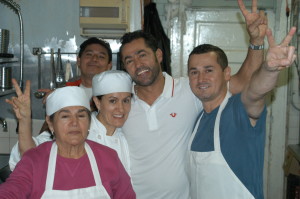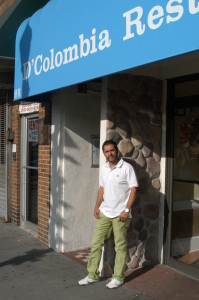 The world of the migrant worker, CoFiA's world, is full of heart-rending stories. It's wonderful, then, to tell a happy tale. The story of Englewood's D'Colombia Restaurant, and its engaging owners Cristina and Duvan Echeverry, is a happy one.
The story begins in early October, 2014, when one of CoFiA's clients presented us a wage theft claim against a restaurant in Englewood. Our client had worked there for three weeks, and hadn't been paid. The restaurant owed him $1675. We called the owner, who straightforwardly confirmed the debt; indeed, he had many debts. But he hoped to pay our client shortly.
A few days later we got a call from the client–the restaurant at 99 W. Palisade Avenue had closed, and his ex-employer was gone. Time for some detective work! Maybe a visit to the new owners would help us to track down our client's ex-employer and get a settlement.
Something even better happened when we drove to Englewood. We met the new owners of the renamed D'Colombia Restaurant, the brother and sister team of Duvan and Cristina Echeverry. They figured that when they acquired the business, they acquired not only its assets, but also its debts. "Tell your client to call me," said Duvan. "We'll work it out." And he handed over a $200 down payment. In the following days, the Echeverrys worked to settle the rest of the debt.
"Why did you do this?" we later asked Duvan. "It would be so easy to disclaim the debt of an earlier business."
"Because I am a worker, too," said Duvan. "We need to help each other out. That's the way it works." The Echeverry's generosity extended well beyond CoFiA's client; they settled the back wages of a number of the old restaurant's staff, and hired several of them.
The food is also part of D'Colombia's happy story. It is excellent as one might expect from a family of cooks from Santuario in the Colombian countryside. We asked Duvan how he expected to succeed in a neighborhood thick with restaurants.
"We'll succeed with our quality. We use old family recipes. We even fly in my mom to consult about the food." The sopa and cazuela we tried during our visit were very high quality. But don't ask for a menu in this family-style restaurant–one eats, whether taking out or at a table, what the family is cooking. It's all good.
D'Colombia is at 99 West Palisades Avenue, Englewood, NJ, just east of the Palisade Avenue traffic circle. The phone number is 201-731-3192.