Text and photos by Betty DeMarco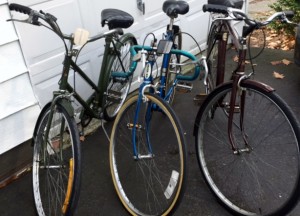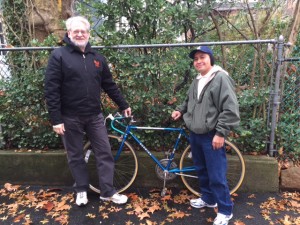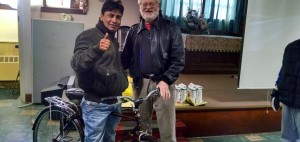 THE LEONIA BICYCLES–A COFIA STORY
Longtime Leonia resident, Sol Arbeiter, while cleaning his garage recently, found some well used bikes, in various states of disrepair, that he'd stored for 25 years. He posted his find on Leonia Talks, the town blog, where Keith Danish read it and responded. Keith and his wife are avid cyclists who map trails throughout NYC and NJ for riders. Keith checked out the bikes, found they were worth saving, and hauled them over to Cosmic Wheel, a cycle shop owned and operated by John Russo on Main Street Ridgefield Park, for refurbishing.
There the bikes were repaired gratis, with Keith Danish donating his own money for the substantial cost of the parts. Restored to full working order and looking brand new, they were driven back to Keith's garage to await the new owners.
On December 3, Ellie Spiegel, a founding member of COFIA NJ (Community of Friends in Action), drove to North Bergen to pick up a Guatemalan immigrant and key member of COFIA, who was the first to be selected as a bike recipient. They returned to the Danish's garage where he tested all the bikes and selected the one which best suited him. Keith made all the necessary adjustments, and Betty DeMarco translated for the group. A very happy biker was driven home again with his new bike.
More recently another bike was donated to another longtime member and co-secretary of COFIA, for all the work he has done for this group. On December 15 another refurbished bike was awarded to one of the many day laborers at a drawing at the weekly winter Monday lunch at the Grace Evangelical Lutheran Church on Broad Avenue in Palisades Park. Mr. Danish was happy to deliver the bike and present it to the winner. He explained NJ state requirements about helmets and general safety advice. Effie Giraldo translated.