PHOTOS by CoFiA co-secretary Guillermo Calan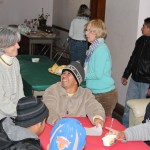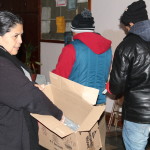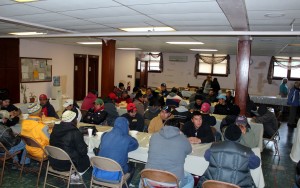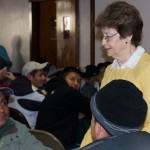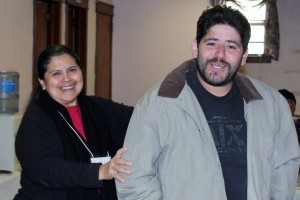 December 29, 2014, brought a large number of both guests and volunteers to the Monday lunch program at Grace Evangelical Lutheran Church in Palisades Park. Every week between November and April the congregation graciously makes the space available to us without charge. Many thanks to Pastor Peter Bauernfeind, AdministratorTina Lindquist, and Pastor Philip Lee of the Korean Church, for their generosity.
We are fortunate to have a number of bilingual volunteers helping us this year, which makes communication between the volunteers and the guests much easier and helps us enjoy being together. Board members Suzanne Broffman, Betty DeMarco, and Guillermo Calan, as well as staff member Angelica Martinez were on hand to answer questions and chat with the workers. Chair Carolyn Sobering and CoFiA member Mary Rausch and the other volunteers met the challenge of having far more people in attendance than we could possibly have expected; one way and another, we were able to make sure everyone went away having had enough to eat. A number of young people donated a few hours of their holiday time to lend a hand. And we needed every one of them!
The lunch program gives us all a clearer insight into why the workers are here, what hardships they endure, and how connected they remain to families at home. Holidays are apt to be lonely and sad, and it is helpful to have a warm place to go where you are welcomed without question.
Much thanks to all the volunteers who continue to donate their service week after week!