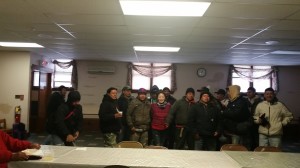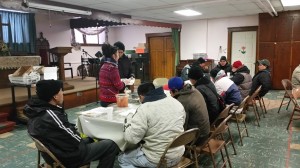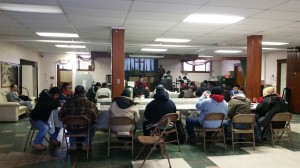 This winter has been difficult for everybody, including the guests and volunteers who participate in the CoFiA lunch program. One week there was heavy snow, so there was plenty of shoveling work to be done. That week six volunteers and one guest came. The following week there was ice and bitter cold. The volunteer coordinator cancelled the lunch. But since there was no snow, there was no work for the men. When CoFiA secretary Guillermo dropped by the church, he found some 25 – 30 guests enjoying the warm space, but also hoping for lunch!
Just as Guillermo was reporting this, the Reverend Philip Rey, pastor of the Korean Church that rents the space from Grace Evangelical Lutheran, came in and saw what was happening. He immediately called a member of his congregation who is the owner of a Korean restaurant across the street. Within an hour she brought a wonderful hot Korean lunch for the workers! She and Pastor Philip and others also stayed to serve the food and clean up afterwards!
CoFiA chair Carolyn Sobering dashed over from Leonia to lend a hand, but found everything in good order and very happy people sharing a "miracle lunch." She expressed our deep gratitude for this wonderful gift–for which we were not even permitted to pay!
Muchas gracias, Pastor Philip and Michelle!