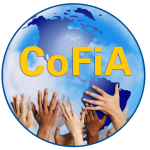 Thanks to challenge donations made by members of the CoFiA Board and numerous gifts from individual members and organizations, CoFiA raised enough money over the summer to allow us to seek out a part-time community organizer to join our staff. The Fund Raising committee provided inspiration and hard work to achieve this goal. Many thanks to all!
We are currently concluding our search for an organizer. The position entails organizing and facilitating programs for worker guests during the Monday lunch season, as well working with other organizations such as the New Jersey Alliance for Immigrant Justice, to push for legislation in the State of New Jersey that would make life a little better for workers, in the absence of any reform of federal immigration policy. The first item on this agenda is to persuade the State to issue drivers' licenses to undocumented or other people; this is already being done in several other states and would make an enormous difference in people's lives.
For information on the legislation see Senate Bill S-2925 or the identical Assembly Bill A4425.