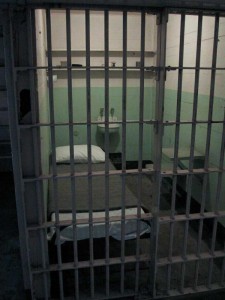 On October 22, 2015, the Federal Communications Commission (FCC) voted to set hard caps on rates and fees charged by private phone companies for calls made from people held in jails, prisons, and immigration detention. The cap for state and federal prisons is 11 cents per minute, and for county jails from 14 to 22 cents a minute depending on the size of the facility.
For those of us who are working for immigration reform and fair treatment of immigrants being held in detention facilities, as well as for families of people who are held in jails and prisons, this is wonderful news. There are at least four counties in New Jersey–Bergen, Cape May, Salem, Passaic–where charges for local calls are exorbitant. In Bergen County, for example, it currently costs $7.50 for a 15 minutes in-state call. Under the new ruling the charge would go down to $2.10 because Bergen is a large facility.
A large part of the high fees are ancillary service fees, including commission payments from phone companies to facilities such as Bergen. These payments are anti-competitive profit-sharing arrangements that prey on incarcerated persons and their families.
Immigrants held in detention are not criminals. Criminal immigrants are held in jails for a specified length of time. People in detention centers are not serving sentences but are waiting for something–a hearing, determination of a deportation date, a visit from a lawyer. Having access to telephones is absolutely crucial for them. One woman who was held at the ICE facility in Hudson County Jail for five months said she could not call her children more than once a week because of the high cost.
For more information go to www.njphonejustice.org.