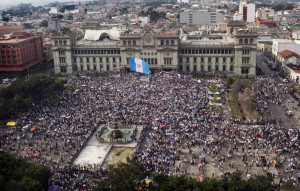 Our friends at Grupo Cajola have sent exciting news in their September newsletter. You can find it at www.grupocajola.org. Here is one selection:
Guatemala—An Amazing "Coyuntura"
I do not know what other word to use…coyuntura literally means "juncture" but is a
great word to capture the idea of current events or analysis. What is transpiring in
Guatemala is historical. The investigation by CICIG (the UN-headed agency created by
way of the 1996 Peace Accords) that began with arrests of high level government
officials for fraud and thievery at the ports and in the social security administration
eventually resulted in the resignation and arrest of ex-President Otto Perez Molina. The
huge citizen uprising by the educated and middle class turned politics on its end. The
elections earlier this month apparently dispensed with the long standing tradition that
one election's runner up would become the president the following election as the
former heir apparent Manuel Baldizon tied for third place with another candidate,
Sandra Torres. But the lead voter getter is a comedian-businessman (sound familiar?)
backed by the military. The voter turnout was strong. There have been several excellent
articles about the coyuntura, in both Spanish and English. For those of you who want to
delve into this most interesting time: "From President to Prison: Otto Pérez Molina and
a Day for Hope in Guatemala" by Francisco Goldman in the New Yorker, September 4,
2015, is a good place to start.