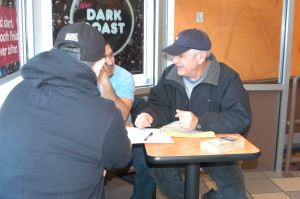 Local employers continue to take advantage of workers by not paying them for work done. This summer was no exception. One situation involved a worker who had filed a claim with the Department of Labor more than a year ago. He received a hearing date on short notice, but he was starting a new job and could not take off to go to Trenton to the hearing. The worker and the Wage Theft committee agreed it would be best to drop the claim and attempt to get the money directly from the contractor. He agreed to pay but did not. Eventually the contractor's wife agreed to the payment plan and sent four checks, post-dated. Two have cleared as of October 1, so after more than a year the worker has received a small percentage of what is owed. Just another example of how workers are so often cheated.
Another situation involves six workers who are owed up to $1525 each by one contractor. He admits he owes them but said he doesn't care if they take him to court because the business is in his baby daughter's name. The committee needs more information on this very complicated situation but is hard at work tracking it down.
The committee welcomes more volunteers, especially Spanish speaking. Some experience in/knowledge of labor law is helpful. Even people who do not have documents are protected under labor laws, and the Department of Labor is not permitted to share information with the Immigration and Customs Enforcement agency.