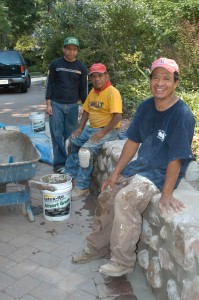 One of the services CoFiA provides is a Workers Link referral program, connecting workers with local homeowners and small businesses. People needing assistance for various tasks send an email to our web site, or call the CoFiA number, and let us know the details of the work. If Angelica, our coordinator, knows someone who is not working and has those skills she will make the connection. Follow up and setting of rates is up to the worker and the employer.
The program works best if the employer gives us plenty of time (several days, or a week) to find the best person for the job, and if the employer is willing to provide adequate compensation. Most workers do not have their own transportation so it may be necessary for the employer to pick them up and return them to an agreed upon spot. Most employers provide coffee and lunch, as well.
Recently one of our members who is employed full-time was able to accept an additional masonry job after hours. The Leonia homeowner reported being very happy with the work, and the worker was glad to have the extra income because he has a child in college this year.