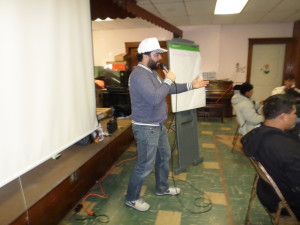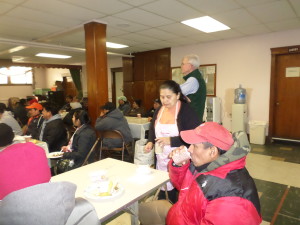 On Monday, January 11, 2016, Brian Lozano of Wind of the Spirit gave a presentation on Know Your Rights to the more than 65 guests and volunteers at the Monday lunch program. Members of the migrant community are feeling anxious because of the rumors of ICE raids all over the country. Brian presented facts about who may be at risk of being arrested by ICE, including Legal Permanent Residents (LPR) with prior convictions, even if the conviction is from years ago; the case was a misdemeanor or minor; and the person has been an LPR for a long time. Another group that may be vulnerable are undocumented people with prior infractions or convictions.
Brian gave clear factual information on what to do if ICE comes to the door. Such raids are frequently carried out early in the morning when people are still sleeping, but may be any time of day and in any place. Participants in the seminar were advised not to open the door but to ask the officers if they have a search warrant signed by an actual judge. If the agents come into the home, they are not legally allowed to search the home or belongings without permission.
Brian gave many other tips on how to react in such situations, as well as the address and phone number of the Immigrant Defense Project (immigrantdefenseproject.org) 212-725-6422, which can assist.
CoFiA plans an ongoing series of Know Your Rights Programs in the next few weeks. These are frightening times for the immigrant community, and it is important for all of us to know what can be done to make things a little better. Many thanks to Wind of the Spirit for providing this excellent program.