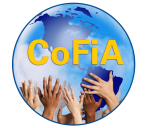 CoFiA ended the year 2015 on a high note, receiving many donations as a result of our end-of-year appeal, and the addition of PayPal to our site. Many thanks to Maria Andreu, who managed the process. And to all of you who continue to support us both financially and with many, many hours of volunteer service.
As we begin 2016 we share the fears of many in the immigrant community about the raids that ICE (Immigration and Customs Enforcement) is carrying out, rounding up people who they believe fit their priorities for deportation. Rumors are rampant, and it is difficult to sort out fact from fiction. However, it is easy to feel the distress among our friends as they face the possibilities of being abruptly removed from their families and sent back to a country from which they fled for their lives.
Please let the White House know that terrorizing vulnerable people in this way is unacceptable.Call (202)456-1111. You might say, "I call on President Obama to halt immigration raids, especially those at homes. It's unconscionable to target vulnerable families and children at their homes. Protect the human dignity and rights of asylum seekers and immigrants who've already been through so much to get to the US.
A rally was planned for Thursday, January 7, at 1:00 p.m., at the Federal Building in Newark to protest the raids. CoFiA, along with many other immigrants rights groups, is planning Know Your Rights sessions. We will continue to post information as it becomes available.