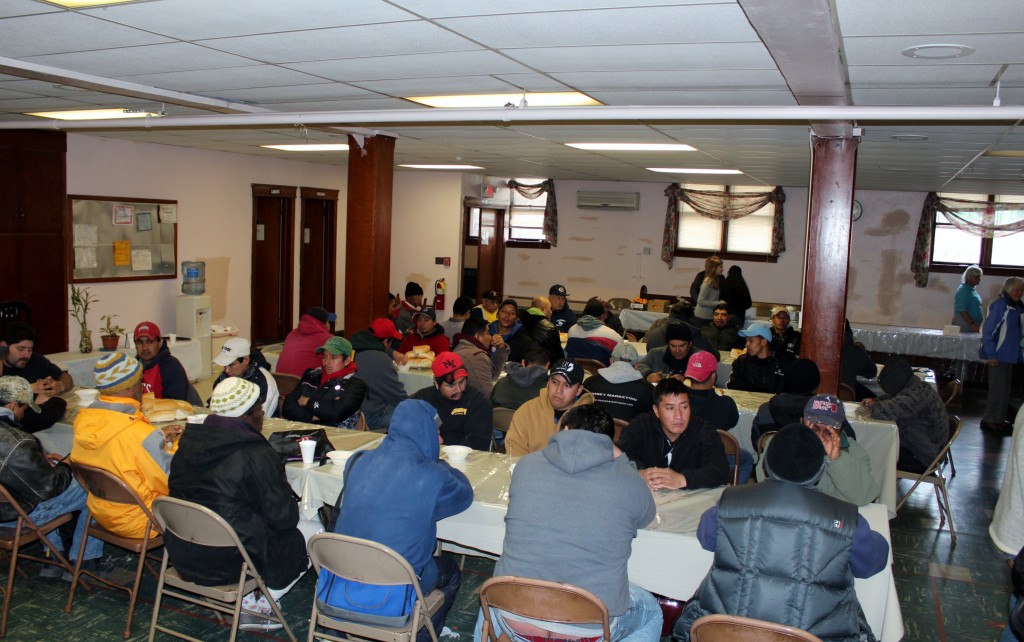 This winter CoFiA has been concerned about a group of workers who have been homeless.  Although the Bergen County shelter in Hackensack will allow them to stay there in the worst weather, they are only admitted to the "sit up" section and must leave by early morning.  To date we know of no one who has chosen this option.  "Don't worry about us," they tell Angelica.  But we do worry.
So we are pleased that a bill to increase the availability of shelter recently was passed by an Assembly committee. The following account was published in the Bergen Dispatch on March 4, 2016.
Bill to Help Shelter Homeless During Extreme Cold, Heat Clears Assembly Panel
Legislation Assemblymen Bruce Land and Bob Andrzejczak sponsored to identify and assist people in need of shelter during severe weather events was advanced by an Assembly committee on Thursday.
"No one in New Jersey should have exposure to the elements be his or her cause of death. The mere notion of that is just unacceptable," said Land (D-Cape May/Atlantic/Cumberland). "This legislation has the potential to save thousands of lives in New Jersey and help some of our most vulnerable residents as they try to get back on their feet."
The bill (A-815) would require county emergency management coordinators to establish Code Blue programs to shelter homeless individuals during snow emergencies, excessive cold or heat or other weather-related conditions. The legislation is part of an effort by Assembly Democrats to help the 2.8 million adults and 800,000 children living in poverty in New Jersey.
Under the bill, an emergency management coordinator would declare a Code Blue alert within 24 hours prior to the onset of a severe weather event. Upon the declaration of an alert, law enforcement agencies within the county would identify and locate individuals who may require assistance and arrange transportation to an appropriate shelter. Provided the event does not continue or worsen, the alert would end at 8 a.m. the following day.
"For individuals without a home, extreme weather can be life-threatening," said Andrzejczak (D-Cape May/Atlantic/Cumberland). "There's simply no excuse for a resident of New Jersey to suffer outside during a severe weather event when every county has the means to provide people with temporary shelter."
The legislation is modeled after the Code Blue program implemented in Cumberland County to provide the homeless with shelter during the winter. The sponsors noted that the bill would create uniform standards for the 14 counties that already have such programs in place and introduce a Code Blue program in the remaining seven counties.
The measure was advanced by the Assembly Homeland Security and State Preparedness Committee.