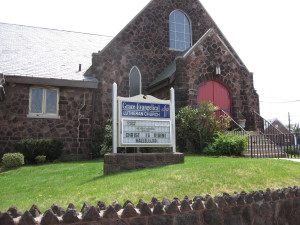 For several years, CoFiA has been offered the use of Grace Evangelical Lutheran Church, at the corner of Broad Ave. and Homestead St., for its various programs. During the cold winter months we provide a once-a-week hot lunch to workers who often have few jobs during that time.
From time to time we have received complaints that the corner is being littered by passers-by. While we are unconvinced that our guests are the only ones doing the littering, for several months we have hired someone to clear the trash regularly–actually daily!–and it looks much better. However, the littering continues, especially in and around the bus kiosk. We noticed that there is no town garbage can on that corner so it is to be expected that people taking the bus will get rid of their paper trash however they can.
CoFiA has been in conversation with the Mayor and the Department of Public Works about placing a garbage can on the corner to help in the effort to keep the area clean. We'll let you know how this initiative works out!