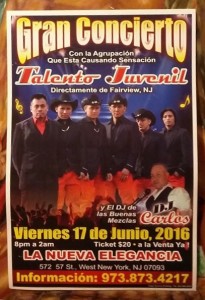 CoFiA is happy to share with you news of this upcoming concert by a new musical group, Talento Juvenil (Young Talent) The leader is CoFiA member Joselino Chocoj, who is well-known to many of us for his various talents.
We first met him as the leader of a traditional Guatemalan dance group, Grupo Folklorico de Tikal, which presented the story of a famous Guatemalan hero. He has since moved on to composing and singing, sharing his talents with us at CoFiA meetings, at our lunch programs, and at the Saturday afternoon meetings of workers. After a presentation at the OSHA graduation ceremony in May, our intern Andreanna confessed to being moved to tears.
Joselino is committed to keeping Guatemalan culture alive in the United States and sharing both the joys and sorrows of the community as they try to make their way through this strange and often hostile culture. He sings of the wide range of experiences–from romance, to anger over the treatment of immigrants here, and longing for the homeland.
We are honored that Talento Juvenil will share their talents at our Fiesta Justicia on September 23, 2016 in Leonia. For a preview, why not check them out on June 17?