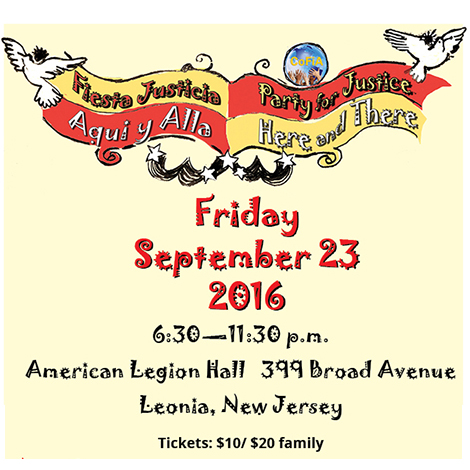 On Friday, September 23, 2016, at the American Legion Hall in Leonia, CoFiA will hold a fund-raising party. We will present three bands, lots of good food, raffles, socializing, dancing and wonderful crafts from Guatemala to purchase.
Why a party called "Fiesta Justicia?" For many years CoFiA and our friends have worked to improve the lives of immigrants in Eastern Bergen County, and have also worked to improve U.S. immigration policy. Yet in 2016 prospects for improvement, both here in and Guatemala–aqui y alla, here and there–are dim. Candidates for the presidency of the U.S. are proposing either vicious anti-immigrant tactics or no strategies for real improvement. In Guatemala conditions are so grim that more than 20,000 indigenous country people marched for up to 159 miles, over 12 days, to plead with their Congress and government for the right to clean water and to land. One response to their efforts was this post on Facebook by the current president, Jimmy Morales: "Yes, there is a president, gentlemen, I work hard every day!"
At Fiesta Justicia we want to relax for an evening, have a good time, and also raise money to continue the efforts members and friends of CoFiA are making to improve the lives of immigrants and to achieve some improvements in immigration policy, at least in New Jersey. Please join us!