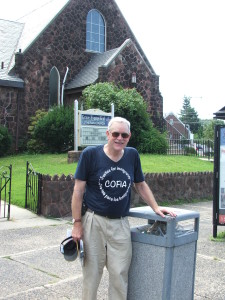 In the winter when CoFiA offers a free lunch once a week in Palisades Park, we sometimes heard complaints that there was too much litter on the corner of Broad and Homestead Streets, where our host church, Grace Evangelical Lutheran, is located. While we had observed that it was not just our group that was doing it, we wanted to be good neighbors so we asked one of the workers to clean up the area from time to time. He has been doing it–three times a DAY!–ever since. It certainly looks better.
But we also realized that one of the problems was the lack of a garbage receptacle on that corner. There is a bus kiosk there, and a lot of foot traffic, so we felt that having somewhere convenient to dispose of trash would help.
We reached out to the Department of Public Works in Palisades Park which accepted our request and quietly placed one of the town receptacles there! Thanks to everyone for working together on a small but important project!