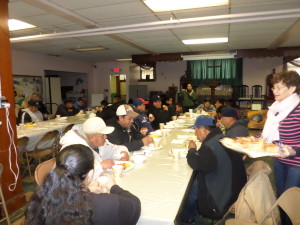 We were recently advised by the pastor of Grace Evangelical Lutheran Church, where we have been offering hot lunch once a week to the workers during the cold months, that the borough is no longer allowing this program. We have not yet received any clarification as to what the basis for the announcement is, but are of course complying with the pastor's request. We will keep everyone posted as we learn more.
In the meantime the many other programs of CoFiA continue including our English classes; assistance with wage theft recovery; workers' link; numerous responses from our social services coordinator to requests for many and varied kinds of assistance; the coat drive at the Leonia Public Library and Independence House, along with the Rotary Club; leadership training and Know Your Rights information for the Saturday night group–and much more. And we continue to worry about the half dozen or so homeless people who are somehow surviving without shelter. The closure of our lunch program seems to be somehow related to the fact that St. Michael's Church allowed a few to sleep there for a night or two and one man died. We don't know how this incident is related to the lunch program.
Both CoFiA members and volunteers, and the guests who enjoyed the hot lunches, are so grateful to the pastors and secretary at Grace Church for their years of hospitality and support.  We look forward to continuing to work together in whatever structure is permitted by the borough.