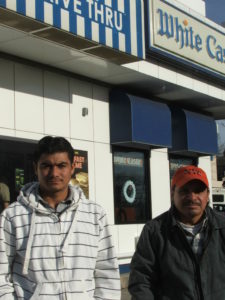 CoFiA's wage-theft recovery effort is frequently about detective work. We want to have an assertive discussion with the deadbeat employer–but that can't happen unless we know who it is. Failing a successful collection effort, we solicit the help of the very supportive NJ Department of Labor–but they need not only a name, but an address. All of this is complicated by the fact that the workers are often very casual about critical pieces of workplace information. After all, if the employer provides a job, a tool or two, and some cash on payday, why would you need to know business names, the boss's surname, addresses, and phone numbers? The problem is compounded, of course, by the language barrier, and the fact that the employer prefers it that way.
This is the story of Edwardo and Jose, (not their real names, of course),  carpenters and masons. They had been working for months for a construction boss, "Roxie", until Roxie ran afoul of a non-paying client. Roxie was in a pinch, and she did what unethical employers often do to their most vulnerable employees: she stiffed them. She was genuinely worried when  we called to tell her that she had violated the law, and that CoFiA works with the Department of Labor to settle such cases. She promised to send the $2000 owed, to CoFiA.
When the checks didn't arrive, we had a dilemma–we knew Roxie's first name and her cell number, but nothing more–not enough to initiate further action. But the guys had been to her house in Clifton, and though they didn't know the address, they figured they could guide us to it. So that's what they did. Meeting at one of CoFiA's "field offices"–the White Castle on Bergenline Avenue–they drove into the crowded and festive New Year's Eve streets of Passaic and Clifton, and pointed out Roxie's house. As if to prove the point, Roxie was taking out the garbage. "Want to talk to her now?" we asked. "Claro que no!" and they slid down into their seats. We parked a few houses up, and then doubled back to check the house number, and any information on the mailbox. There it was: Roxie A____, and even the name of her company. Roxie will be hearing from us again!
Photo and text:  Norm Smith