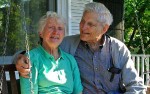 At its meeting on Thursday, May 4, the Board of the Community of Friends in Action, Inc., voted to set aside a small amount of money to respond to requests we occasionally receive from workers and others for financial assistance in an emergency. The Board unanimously agreed to name the fund the "Spiegel Fund," in honor of two of our founding members and long-time supporters, Hans and Ellie Spiegel. Both are inspirations not only to CoFiA but to many other groups and individuals in the Leonia and metropolitan area and around the world. Thank you, dear friends, for all you have done and all you mean to so many of us!
CoFiA does not receive many requests for financial assistance, but we have been able to help a number of people over the years with small grants. Typically a request might be to help purchase medicine, pay for transportation to various appointments including ICE check-ins, help with a security deposit or a rent payment, illness of a family member here or in Guatemala, and–most sadly–help with funeral expenses or sending a body home. Recently a school nurse called to see if we could help a student who had a bad tooth. We agreed, and the Center for Food Action also offered to contribute. As it worked out, however, the nurse was able to find a compassionate dentist who pulled the tooth and filled a cavity, and the young man was able to cover the expense himself. (He works 4 p.m. – 4 a.m., and then gets up and goes to school!) Another request was from a CoFiA delegado who was asked by a new landlord to pay another security deposit. We were able to research the law and assure her that it was the responsibility of the previous landlord to turn over the funds in the security deposit account. So again our financial help was not needed.
But in spite of all efforts to remain self-sufficient under very difficult circumstances, finances are an ever-present concern among the community. We feel that the new "Spiegel Fund" will help us help out on a limited basis, and we are glad to have the resources to do that.
We are not asking for additional support for this fund, but if you wish to contribute, checks may be made payable to CoFiA, with Spiegel Fund on the memo line, and mailed to us at P.O. Box 313, Leonia, NJ 07605.