CONTRIBUTIONS WELCOME FOR "AMERICANS HELPING PREMATURE CHILDREN FOUNDATION"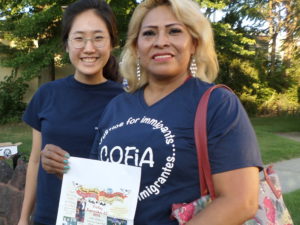 Our Community Organizer, Sayda Tuanama, has asked that we let the CoFiA Community know that there will be a fundraiser on Saturday, June 3, 2017, at 7 p.m. at the Mar y Tierra Restaurant, 44 Market Street, Passaic. The event features several hours of dancing and Peruvian music, and the donation for the dance is $25.
The Americans Helping Premature Children Foundation has helped Saydy respond to the needs of her own daughter who was born prematurely, and she is eager to help them as much as possible in return. Go to www.americanshelpingprematturechildrenfoundation to learn more, including how to donate.
Saydy's daughter is facing several operations in the near future so she will be grateful for all contributions that can be made to the Foundation.
CONTRIBUCIONES BIENVENIDO PARA LOS "AMERICANOS AYUDA A FUNDACIÓN DE NIÑOS PREMATUROS"
Nuestro organizador de la comunidad, Sayda Tuanama, ha pedido que dejamos la comunidad de CoFiA saber que habrá una recaudación de fondos en sábado, 03 de junio de 2017, a 19:00 en el Mar y Tierra restaurante, 44 mercado Street, Passaic. Las características del evento varias horas de música de baile y peruana y la donación para el baile es de $25
.
La americanos ayudando a la Fundación niños ha ayudado a Saydy a responder a las necesidades de su propia hija, que nació prematuramente, y está dispuesta a ayudarles tanto como sea posible a cambio. Vaya a www.americanshelpingprematturechildrenfoundation para aprender más.
Personas que deseen donar a la Fundación pueden transferir las donaciones a Chase Bank, número de cuenta 897815663, número de ruta 021202337. La Fundación cuenta con 501 © estado y las donaciones son deducibles de impuestos.
Hija de Saydy se enfrenta a varias operaciones en un futuro cercano por lo que será agradecido por todas las contribuciones que pueden hacerse a la Fundación.