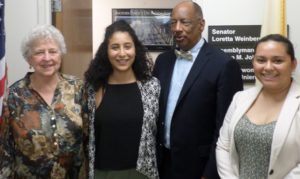 On Friday, June 23, 2017, Assemblyman Gordon Johnson (D-37) welcomed representatives from the New Jersey Alliance for Immigrant Justice, and from CoFiA, to his office in Teaneck. The group engaged in a lively discussion of immigration issues, including the NJAIJ new policy platform. Mr. Johnson demonstrated broad familiarity with the issues, and joined with Johanna Calle, Executive Director, and Dina Mansour, Outreach Coordinator, of NJAIJ, as well as Margaret White, Chair of CoFiA, in putting together a plan to reach out to various groups, including the Bergen County Prosecutor, the Bergen County Association of Chiefs of Police, and the Bergen County Sheriff, to expand familiarity with the issues.
Mr. Johnson also shared with the group his office's recent initiative in approaching the governing bodies of a number of municipalities inviting them to pass resolutions affirming their commitment to providing equal, respectful and dignified treatment of all individuals, regardless of their immigration status; and to remain welcoming communities. Several muncipalities have already passed such resolutions and others are in process.
The group agreed that this conversation is to be the first of a series of meetings to design a workable policy in New Jersey that will create a more welcoming and positive atmosphere for all immigrants, both documented and undocumented.