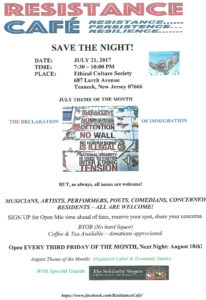 Teaneck-based Resistance Cafe's theme of the month is "The Declaration of Immigration." Musicians, artists, performers, poets, comedians and concerned residents are all welcome. Light refreshments provided.
People who wish to perform are asked to sign up for the Open Mic ahead of time and reserve a spot. Go to https://www.facebook.com/ResistanceCafe/
CoFiA is looking forward to sharing a lively evening with others who are concerned about the sad state of immigration policy and practice in our country and around the world.