To help this family, go to https://www.gofundme.com/estrada-family-together-we-can. While the father must leave on Saturday, August 12, 2017, his wife and three citizen children will remain here. It will be difficult for them to survive on one income. Donations will go to NJ Action 21 which is working closely with the family and will see that the money gets to them safely.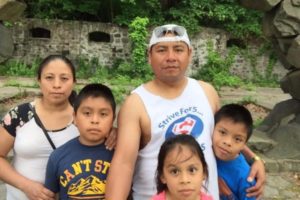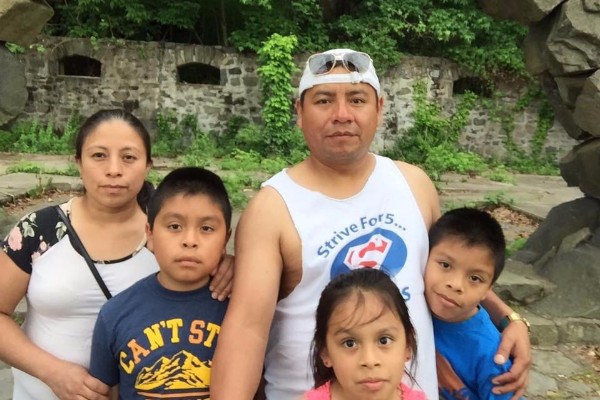 Action 21, a community organization in Jersey  City, NJ is asking for your help on behalf of the Estrada Family.  With the announcement that President Trump and his administration have officially rescinded Deferred Action for Parents of Americans and Lawful Permanent Resident (DAPA), Jose Estrada, a potential beneficiary of this program, is now facing imminent deportation. Jose Estrada is a Guatemalan immigrant who has made Fairview, NJ, his home for 8 years. Jose was forced to leave Guatemala due to the gang violence and threats he faced in his native land. He decided to make his way to the United States after receiving threats from local gangs asking him for money in return for not hurting his family. It was in 1998 that Jose made his attempt to cross the border into the United States.
Father to 3 U.S citizen children, Jose and his family have been calling Fairview, NJ, their home for 8 years. Jose has always tried to live a peaceful life, doing everything possible to love and support his wife and children. He has responsibly and regularly checked in with ICE, but now he has been ordered to depart the U.S. and leave his family this summer. He will leave on Saturday, August 12, with a one-way ticket.  His children and wife have cried numberless times.
CoFiA is joining with NJ Action 21 to solicit funds to help Mr. Estrada's wife, Gloria Chocoj, and his three children.  Both parents have been working full-time, but with the loss of the father's income life will be very difficult.  NJ Action 21 has set up a GoFundMe campaign to try to raise  money to help Gloria Chocoj pay rent, buy food, and meet other necessities.  She is also doing research to find out what benefits her American-born children are eligible for, as well as learning what resources various charitable organizations may be able to provide. CoFiA is making an emergency donation from our recently established Spiegel Fund, named in honor of long-time members and founders, Hans and Ellie Spiegel.
To make individual contributions to help this family, please go to www.gofundme.org and search for Jose Estrada.  NJ Action 21 will receive and distribute the funds carefully so that donors can be confident the money will be used for the purpose for which it is contributed.
For more information call NJ Action 21 at 973-980-8745.