Our good friend and former staff member Elias Garcia joined the Saturday Delegados group at their regular Saturday meeting this past weekend. Elias brought the group up to date on the latest requirements of the Guatemalan consulate for obtaining Guatemalan passports and other documents. He emphasized in particular the need to make appointments for everything, including birth certificates as well as passports, and to note well the time and date of the appointment. New member Icelsa, who is a notary public, confirmed his advice.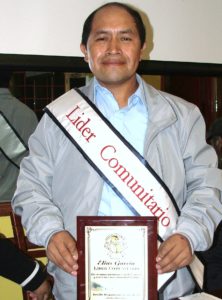 Delegada Ester proudly received her CoFiA membership card from CoFiA community organizer Saydy. The delegado member group of CoFiA is growing rapidly. Presently we are meeting at a local Guatemalan restaurant, which welcomes us warmly and serves a delicious meal. However, we would like to find an additional meeting place. If anyone has suggestions, please contact Saydy at saymarytuanama@yahoo.com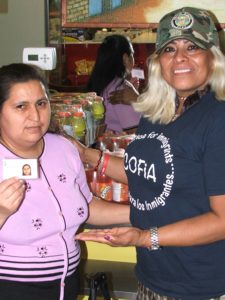 At our request, Elias wore the sash he was awarded as Community Leader of the Year by the Hispanic Day Parade team. Elias has been instrumental in organizing the parade for many years. We are so proud to claim him as a CoFiA member as well!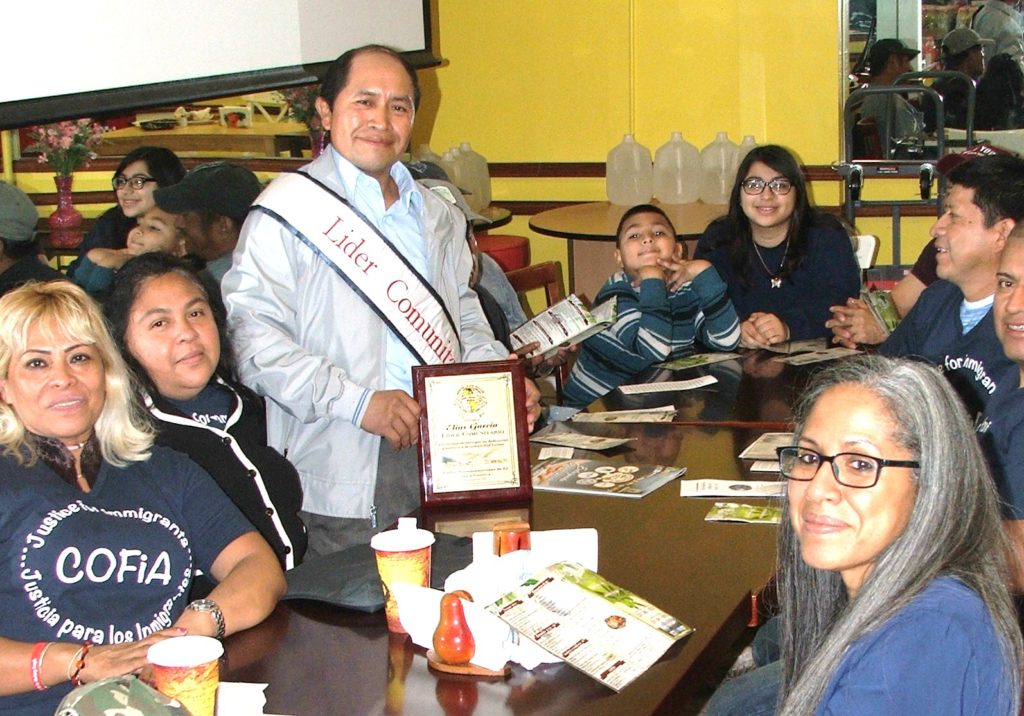 ————————————————————————————————–
Nuestro buen amigo y antiguo miembro del personal, Elías García, se unió al grupo Saturday Delegados en su reunión regular de los sábados del pasado fin de semana. Elias puso al grupo al día sobre los últimos requisitos del consulado guatemalteco para obtener pasaportes y otros documentos guatemaltecos. Enfatizó en particular la necesidad de hacer citas para todo, incluidos certificados de nacimiento y pasaportes, y para anotar bien la hora y la fecha de la cita. El nuevo miembro Icelsa, que es un notario público, confirmó su consejo.
Delegada Ester orgullosamente recibió su tarjeta de miembro de CoFiA del organizador comunitario de CoFiA, Saydy. El grupo de miembros delegado de CoFiA está creciendo rápidamente. Actualmente nos estamos reuniendo en un restaurante guatemalteco local, que nos da una cálida bienvenida y sirve una deliciosa comida. Sin embargo, nos gustaría encontrar un lugar de reunión adicional. Si alguien tiene sugerencias, contáctese con Saydy en saymarytuanama@yahoo.com
A petición nuestra, Elias usó la faja que le otorgó como Líder de la Comunidad del Año por el equipo Hispano del Desfile del Día. Elias ha sido fundamental en la organización del desfile durante muchos años. ¡Estamos muy orgullosos de reclamarlo como miembro de CoFiA también!
Translation by CoFiA member Icalse Mejia. Thanks!