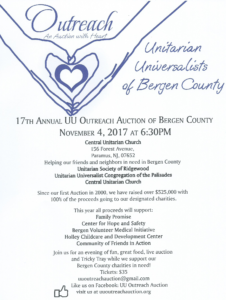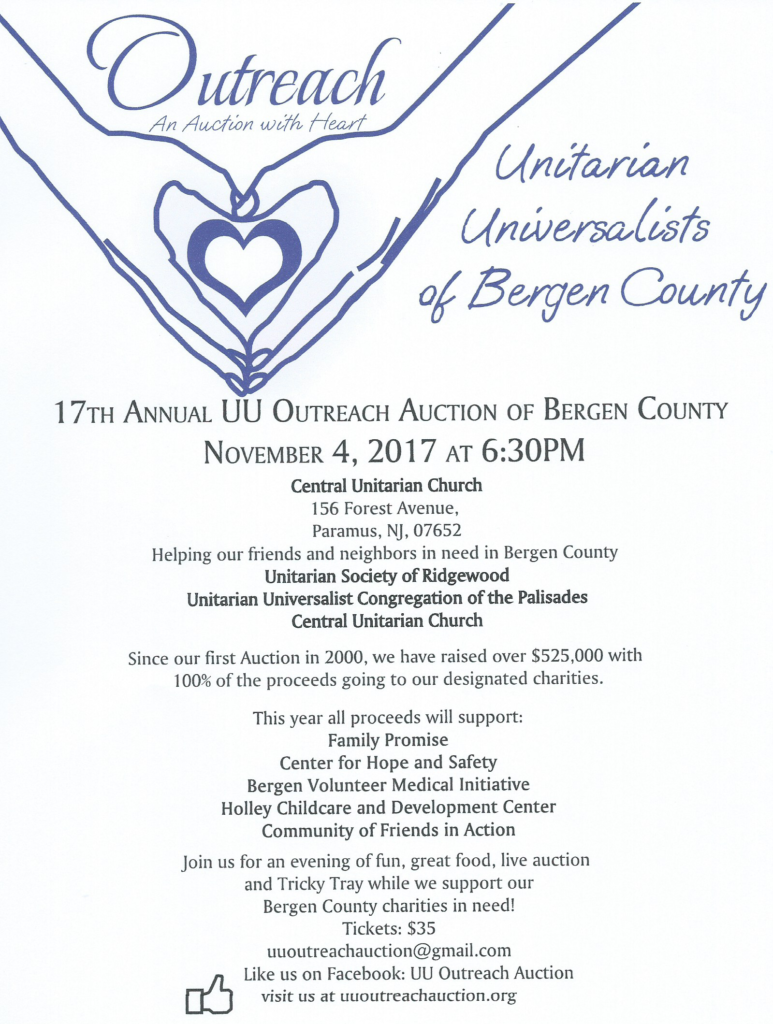 The Community of Friends in Action has been chosen to be one of the five causes and charities that will receive funds raised at the 2017 Outreach Auction.  This unusual event is sponsored by the three Unitarian Universalist congregations in Bergen County–Central Unitarian Church, Unitarian Society of Ridgewood, and the Unitarian Universalist Congregation of the Palisades.  100% of the proceeds for the evening go to the selected charities which are selected based on the impact they have on those in need in Bergen County, regardless of religious affiliation. Tickets are $35.
Since the first Outreach Auction in 2000, it has raised more than $525,000, all of which is distributed to the charities.
The event begins at 6:30 p.m. and includes  hors d'oeuvres, beverages including coffee, dessert and a free sheet of tricky tray tickets valued at $15.  Supporters are also invited to donate a themed basket and ask for donations from favorite spots.  CoFiA members who wish to donate a basket (value of $50) are asked to contact us at info@communityoffriendsinaction and arrange for pick-up before October 28. 
For more information go to uuoutreachauction.org.  And please let us know if you can attend.  Funds raised depend to a large extent on supporters participating in the event and "bidding" to contribute to the auction!  
La Communidad de Amigos en Accion ha sido elegida para ser una de las cinco causas y organizaciones beneficas que recibiran fondos recaudados en la subasta de alcance 2017. Este evento  inusual  es patrocinado por tres  Congregaciones Unitarias Universalistas en el Condado de Bergen—Iglesia  Unitaria Central, Sociedad Unitaria de Ridgewood, y la Congregacion Unitaria Universalista de los Palisades.  El 100% de los ingresos de la tarde se destinan a las organizaciones beneficas seleccionadas, que se seleccionan  en funcion del impacto que tienen en los necesitados en el Condado de Bergen, independientemente de su afiliacion religiosa. Los boletos cuestan $ 35.
Desde la primera Subasta de Alcance en 2000, se ha recaudado mas de              $525,000, todo lo cual se distribuye a organizaciones beneficas.
El evento  comienza  a las 6:30 p.m.  e incluye  entremeses, bebidas que incluyen café, postre y una hoja gratuita de boletos de bandeja complicados valorados en $ 15. Los simpatizantes tambien estan invitados a donar una canasta tematica y pedir donaciones de los lugares favoritos.  Los miembros de CoFiA que deseen donar una canasta ( valor de $ 50) se le piden ponerse en contacto con nosotros en info@communityoffriendsinaction y hacer los arreglos para la recogida antes del @8 de Octubre.
Para obtener mas informacion, visite uuoutreachauction.org.  Y por favor, haganos saber si puede asistir.  Los fondos recaudados dependen en gran medida de los partidarios que participant en el evento y que " pujan" para contribuir a la subasta!