Tuesday Lunch Program
Between November and April each year, CoFiA  assists with a hot lunch on Tuesdays at First Presbyterian Church, 50 W. Palisades Ave., Palisades Park, under the sponsorship of the NJ World Mission Church.  The program allows day workers who have not been selected for work that day to come in out of the cold, have a simple meal, use the bathrooms, sit down for awhile, and have informal conversations with each other and the volunteers.  Educational programs are arranged by our staff person, Angelica Martinez.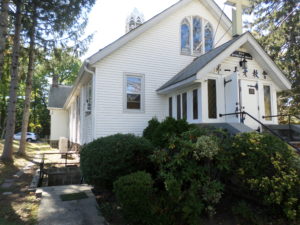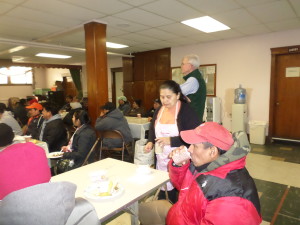 Angelica is also available to discuss personal needs with the workers.  Many of the guests at luncheon are young men, far from home, homesick, sometimes homeless, and sad.  A friendly place to gather with other people and a warm hug can make a lot of difference.  Angelica and some of our volunteers are also able to point the workers to community resources that are available to them.
Wage Theft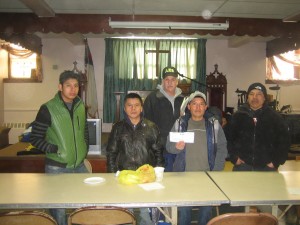 One of the most active committees of CoFiA works on issues of wage theft resolution.   Unfortunately, nearly all day workers report having been cheated of payment for work they have performed. There are no simple strategies for recovering these stolen wages.  The committee uses creative tactics including direct approaches by phone or in person to the employer, letters from our volunteer lawyer indicating that legal action will be taken if payments are not made, or filing cases with the New Jersey Department of Labor.  In many cases an employer who is dragging his or her feet agrees to a settlement when it is clear that legal action is imminent.  In recent years the committee was involved in more than a dozen cases, with upwards of $30,000-$40,000 at stake. Anyone who wishes to learn more about this issue is invited to contact us at info@communityoffriendsinaction.org, and we will put you in touch with a committee member.
ESL
A lively ESL class meets on Tuesday nights at the Palisades Park Library from 7 – 9.  A group of enthusiastic volunteer teachers works with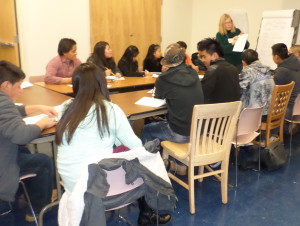 beginning, intermediate, and advanced students on both English language improvement and information on strategies for being successful in U.S. society.   Informal but lively celebrations are held in honor of U.S. and Guatemalan and other holidays. Recently  the class has included people from Turkey, Poland, Korea, Ecuador and Cuba as well as the core group of Guatemalans.
OSHA Training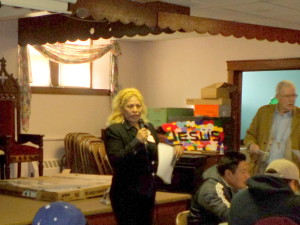 Injury on the work site is a major issue for workers.  Too often employers take short cuts on health and safety issues because they know the workers are reluctant to complain to authorities, even though they are covered under U.S. labor law. Every year certified OSHA trainers provide free classes for workers. A thirty-hour course is also offered.   Official OSHA certificates are awarded for successful completion of the longer course—these are highly valued by the graduates. CoFiA offers a full scholarship for the thirty-hour course.
Health Care Assistance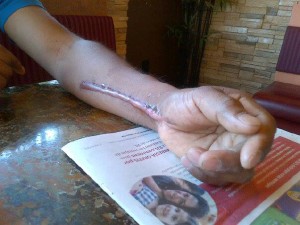 Day workers do not have access to government assistance for health care, nor are they permitted to purchase health insurance themselves.  From time to time CoFiA staff and volunteers assist people who need transportation to doctors or hospitals, and provide information about where they can get help.  CoFiA maintains a small emergency medical assistance fund which is administered by our staff.
Workers' Link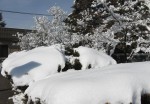 The most urgent need of workers is for work.  CoFiA maintains a small program that attempts to link homeowners or small businesses needing casual labor with workers who are eager to help.  See the "Hire a Worker" page on this web site to find out how this works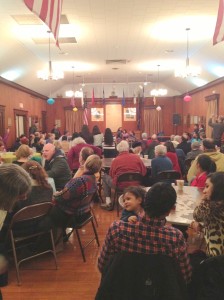 FUND DEVELOPMENT
CoFiA is a 501(c)3 organization, which means that donations are tax-deductible.  Most gifts are from individual donors, although in the past larger donations have been received from various organizations such as the Lutheran Social Ministries of New Jersey, the Unitarian Society of Ridgewood, the Ethical Culture Society of Bergen County, the United Methodist Church of Leonia, St. John's Roman Catholic Church of Leonia, the Presbyterian Church in Leonia, the Community Chest of Leonia, and the Center for Food Action. CoFiA also hosts special fund-raising events, including in 2014 a Fiesta featuring the Still Standing Band, singer/songwriter Joselino Chocoj and the Brothers Grimac. Guatemalan crafts from Maya Mam weavers collective were offered for sale, with 50% of the proceeds being donated to CoFiA. Volunteers to assist in planning and carrying out fund development events and campaigns are always welcome.   Please contact us at info@communityoffriendsinaction.org.