Want to read more on the issue of immigration? Here are a few resources you can try:
David Bacon, ILLEGAL PEOPLE: How Globalization Creates Migration and Criminalizes Immigrants, Boston, MA: Beacon Press. 2008.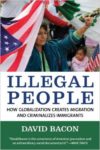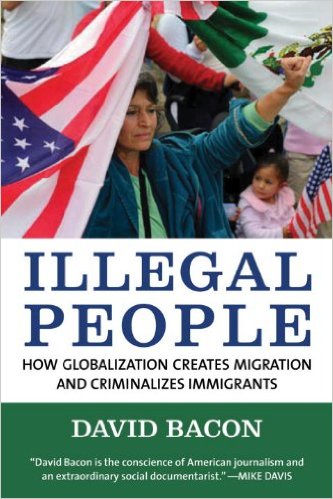 "The word "illegal" has become a one-word mantra in the U.S. political debate. The small but vocal nativist movement, with deep racist roots, uses the word to demonize undocumented people. But "illegal" also describes a social reality—inequality.
Bacon's book looks at this manufactured reality from many perspectives. He shows that "illegal" as applied to immigrants has very little to do with the violation of a law or crossing a border. For centuries there was no such concept, and even now it is only a minor civil violation to be in the country without documents. "Illegal" is all about social and political status.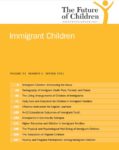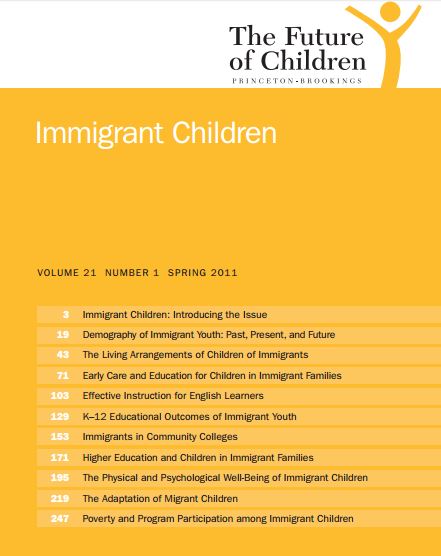 "Immigrant Children," THE FUTURE OF CHILDREN, Vol. 21, Number 1, Spring 2011.
A collection of essays on one of the most important but most often overlooked aspects of our current immigration situation. The social conditions resulting from our racist and broken immigration policy and the social reality of "illegal" are creating a major crisis for immigrant children, who are the fastest-growing segment of the U.S. population. In 2008, nearly one in four youth aged seventeen and under lived with an immigrant parent, up from 15 percent in 1990. Nearly three-fourths of these children are citizens.
This clear-eyed analysis documents the ways in which our neglect of the needs of this large group of children will come back to haunt us all. "As immigrant children become an ever greater share of the future U.S. workforce, the economic and social well-being of retirees will depend on the human capital and economic productivity of these younger workers."
RESOURCES BY COFIA MEMBERS
Maria Andreu, THE SECRET SIDE OF EMPTY, Philadelphia: Running Press, 2014.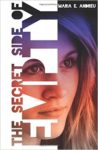 Based on her own experiences growing up without documents in the United States, Maria Andreu's young adult novel provides a vivid picture of this experience from the inside out. THE SECRET SIDE OF EMPTY is already receiving acclaim, notably as a School Library Journal Top Ten Latino Book of 2014. It was picked as a February recommendation by Latin@s in Kid Lit; Maria was interviewed by Children's Book Council Diversity Newsletter for March 3, 2014; the book was named "Must Read Young Adult for Spring," by Bookish, a consortium of Hachette Book Group, Penguin, and Simon and Schuster; and it is a Junior Literary Guild Selection for 2014. Congratulations, Maria!
Hung-en Sung, "Tyrannizing Strangers for Profit: Wage Theft, Cross-Border Migrant Workers, and the Politics of Exclusion in an Era of Global Economic Integration," in OUTSIDE JUSTICE: THE CRIMINALIZATION OF IMMIGRANTS IN POLICY AND PRACTICE, New York: Springer, 2013.
Dr. Sung, a professor at the John Jay College of Criminal Justice, is a member of CoFiA who directed the extensive research study summarized in this chapter of "Outside Justice." Data was collected from 160 day workers on the streets in Palisades Park, New Jersey, where CoFiA is based. It documents the high rate of wage theft against undocumented workers, showing that in the target sample "728 separate incidents of wage theft were perpetrated with $238,112 in back wages owed to 112 victims over the period of 12 months." Dr. Sung concludes that "The market victimizes what the state has criminalized." This is a must-read analysis for anyone who is concerned about what our broken immigration policy is doing to our society as a whole, not just to undocumented people.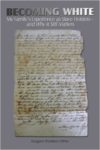 Margaret B. White, BECOMING WHITE: MY FAMILY'S EXPERIENCE AS SLAVE HOLDERS—AND WHY IT STILL MATTERS. Bloomington, Indiana: Author House, 2009.
A history of American racism through the lens of one family. White's ancestors came to this country from Northern Ireland before the Revolutionary War, when there was no such thing as immigration "papers." Although they had been middle-class in the old country, they found it so easy to get land grants from the British and then from the new government of the United States that they soon found that they could not profit from them based on their labor alone. Almost before they knew it they were taking advantage of the "free" labor available all around them—Africans brought as slaves to be sold in the labor markets here. Year by year the numbers grew, until by the time of the Civil War the white "owners" were trapped by their own greed in the system that trapped the blacks with chains. Through this experience they "became white," with all the realities of wealth and privilege and class that entailed—and continues to entail today.
Although not directly about the current immigration issue, BECOMING WHITE documents how the country's history of racist exploitation of labor underlies the meaningless "laws" that are so often cited as the basis for our immigration policy.
"Why I Am Here/Porque Estoy Aqui," video, produced by Juan Pablo Estrada Morales and CoFiA with a grant from the Puffin Foundation Tells the story of Mr. Garcia, an immigrant from Guatemala, showing why he had to leave his beloved homeland to find work in the United States. Interviews with his family in Guatemala and historical footage of the civil war there give the account a poignant immediacy. Available from CoFiA. Donations for the use of the film are given to the people of St. MartÍn Jilotepeque, Mr. Garcia's hometown.
ORGANIZATIONS WORKING FOR IMMIGRANT RIGHTS
American Friends Service Committee (www.AFSC.org/office/Newark-NJ). 89 Market Street, 6th floor, Newark, NJ 07102.
973-643-1924.
Their Immigrant Rights Program in Newark works for "immigration policy with a human face."
Casa Freehold (www.casafreehold.org) 191 Throckmorton St., Freehold, NJ 07728-2348.
732-409-3111.
Rita Dentino, director.
Casa Freehold Job Center connects skilled day laborers with community members who need assistance.
Grupo Cajola. (www.grupocajola.org)
Based in Morristown, NJ, and Cajolá, Guatemala, Grupo Cajola is a group of Guatemalans and friends of Guatemalans, most of whom are Maya Mam. Members of the group are working to develop opportunities for a better life in Cajolá, so no one has to leave the family and community in order to survive.
Currently there are two women's businesses—The Egg Farm of Cajola and MayaMam Weavers, and one men's business, Talent Tree Carpentry of Cajola. There is also a pre-school where Mam culture and language is part of the curriculum.
Latin American Legal Defense and Education Fund (www.LALDEF.ORG).
Maria Juega, director. 669 Chambers St., Trenton, NJ 08611.
Mission: "To defend and promote civil rights, facilitate access to health care and education for low-income Latin American immigrants, and promote cross-cultural understanding in the Mercer County regional area." Provides the Mercer County Area Community ID card.
Helpline 609-688-0881. Site in Spanish and English.
National Day Laborer Organizing Network (www.ndlon.org)
East Coast Office: 1419 V St., NW, Suite 400, Washington, D.C. 20009.
sarahi@ndlon.org
202-332-2871.
NDLON is an alliance of 36 community-based organizations and worker centers dedicated to improving the lives of day laborers in the U.S. Provides educational information such as videos, posters, photos, music, and poetry, and works with the other organizations to organize a wide-range of actions and protests.
New Jersey Alliance for Immigrant Justice (www.njimmigrantjustice.org)
Johanna Calle, Program Director.
A statewide membership-based coalition that creates and achieves policies in New Jersey that welcome and support immigrants to become rooted economically, politically and socially within the state.  Current initiatives include working to convince municipalities to offer IDs to undocumented and other residents; expanding eligibility for driver licenses; strengthening wage theft laws; and building trust between immigrants and the police.
CoFiA is a member of the Alliance.
New Labor (www.NewLabor.org)
Lou Kimmel, director Main Office–103 Bayard St., 2nd floor, New Brunswick, NJ 08901,
732-246-2900.
Lakewood Center, 15 S. Clifton Ave., Lakewood, NJ 08701.
732-534-4166.
Newark Center, 20 Wilson Avenue, Newark, NJ 07105,
862-902-7600
Provides education, training for organizing, OSHA training, immigration reform actions, wage theft collection, plus many social and holiday events for members and families. Works closely with other immigrants' rights organizations such as Unión Latina and Interfaith Worker Justice.